Vespertec wins 2023 Quantum Enterprise Partner Of The Year award
Release date: April 4, 2023  09:45 GMT
Vespertec, the Stockport UK-based specialist in the design, configuration, delivery and support of open, high-performance data centre infrastructure, today announced that it has won the 2023 Quantum Enterprise Partner Of The Year award.
The award, presented at Quantum's Elevate Partner Summit in Prague, recognises the Quantum partner that has excelled in positioning Quantum solutions in large enterprise accounts with multiple petabytes of data.
Working closely with specialist partners such as Vespertec, San Jose, California-headquartered Quantum helps the world's leading organisations unlock the potential of their growing unstructured data and video.
Guillaume Crapart, Senior Director Channel Sales EMEA at Quantum, said: "Vespertec has a clear focus on winning repeat and scalable business in high-end environments which have significant potential for growth and expansion. They regularly close large opportunities including in the past year a significant deal in a petascale environment in the key life sciences vertical and we are delighted to acknowledge with this award their commitment to solving customers' most pressing challenges."
Scott Constable, Alliance Director at Vespertec, commented: "The 'petascale' solution to which Guillaume refers typifies how Vespertec deploys world-class technologies to accelerate performance in the data centre. This particular customer purchased a Quantum ActiveScale X200 object storage system. This runs in a 3 Geo configuration delivering a potential 51.6PB useable capacity to support their bioinformatics processing. ActiveScale provides super-resilient storage which can tolerate the failure of any one of the three sites by leveraging geographically distributed erasure coding. This, together with Vespertec and Quantum's proven track record in delivering easy-to-use, simple-to-scale large storage systems, enabled us to meet and exceed our customer's requirements."
Allan Kaye, CEO at Vespertec, added: "Vespertec prides itself on disrupting the status quo and using the very best in world-leading technologies to improve performance for our customers. Our sincere thanks to the whole Quantum team, not only for this award, but for the fantastic solutions and support they provide for Vespertec customers."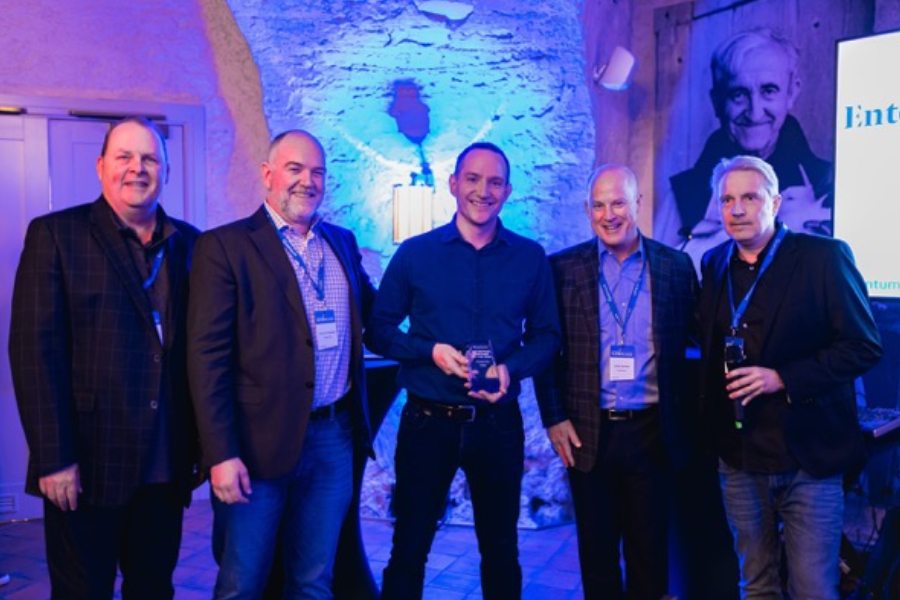 -ENDS-
For press and media enquiries, please contact:
Allan Kaye
Managing Director
Vesper Technologies Ltd
Units 5 Rugby Park
Bletchley Road
Stockport SK4 3EJ
United Kingdom
E: info@vespertec.com
T: +44 (0)161 947 4321
About Vespertec
Vespertec is a specialist in the design, configuration, delivery and support of open, high performance data centre infrastructure. Using new and innovative technologies in compute, networking and storage, we provide data centre solutions that accelerate performance, maximise interoperability, simplify management, scale smoothly, and reduce total cost of ownership. Applying deep knowledge of data centres, open standards and disruptive technology, Vespertec offers its clients impartial, honest and tailored advice to help them consolidate hardware and optimise performance. Vespertec is also a specialist in data centre logistics with extensive experience of project managing the delivery of data centre infrastructure around the world, including to countries with complex logistical and taxation regulations. For more information visit www.vespertec.com
About Quantum
Quantum technology, software, and services provide the solutions that today's organizations need to make video and other unstructured data smarter – so their data works for them and not the other way around. With over 40 years of innovation, Quantum's end-to-end platform is uniquely equipped to orchestrate, protect, and enrich data across its lifecycle, providing enhanced intelligence and actionable insights. Leading organizations in cloud services, entertainment, government, research, education, transportation, and enterprise IT trust Quantum to bring their data to life, because data makes life better, safer, and smarter. Quantum is listed on Nasdaq (QMCO). For more information visit www.quantum.com